welcome to our blog
Friday, July 13, 2018
The wedding rehearsal is an underappreciated - but key - part of creating a beautiful and organized wedding. The rehearsal is often squeezed in between other events, such as the arrival of out-of-town guests, parties for the bride and groom, or sharing meals. But if you give it some forethought and attention, your rehearsal can be enjoyable and still get a lot of important things accomplished.
Here are five tips for a great rehearsal.
1. Do the Rehearsal Early
Most rehearsals end up being the night before the wedding or even the day of the big event. But if your friends and family are partying and imbibing, they aren't going to be in the zone for a serious rehearsal. The best way to avoid this problem is to hold the rehearsal earlier on the day or week prior to the wedding. If you do have to rehearse close to the wedding time, let people know you'll buy them a round after the rehearsal is done.
2. Decide Some Things Before
One of the fastest ways to bog down a rehearsal is to have made no decisions ahead of time. Wedding party members are likely to lose interest quickly if you spend excess time debating things and trying different ideas. Instead, work out as much of the logistics as possible between the bride, groom, officiant, and selected bridal party members in advance. This includes such things as:
Who walks in pairs
The order of the pairs
Where groomsmen will start
Where the party will emerge from
Where everyone will stand
If there is a reception line
What readings or prayers will be included
In addition to saving time and making the rehearsal efficient, making decisions in advance also helps keep out unwanted suggestions and conflicts with family members.
3. Hit the Highlights
You don't need to spend time reading through the entire ceremony during a rehearsal. Create a highlight list ahead of time to give to the entire wedding party. This one-page sheet should include the order of events from beginning to end, including a time line.
Your highlight list may include some key points of the officiant's sermon or blessing so everyone knows what to expect. It should list who does what portions and where people will stand. Use this as a checklist to reinforce what people should do as you practice the ceremony together. And it's a handy guide to help them be on time and in order for the big day.
4. Get a Coordinator
If you have a wedding coordinator, this is where they will shine. After all, they've done this many times before. If you have no coordinator, ask a friend to serve as the wedding party coordinator on the big day. This person should be assertive and willing to tell people what to do. He or she will make your ceremony look polished and make you look great.
If using a friend as a coordinator, have them time the procession and make note of where each person should be. They will give cues to each bridesmaid, couple, or child in the party. They may also cue the music to start, fix the ladies' dresses, and remind bridesmaids how to hold their flowers. At Oasis Golf Club & Conference Center, a coordinator is included when you book your ceremony with us.
5. Practice All Movements
The movements you should rehearse include walking down the aisle, standing in certain places, moving during the ceremony, and recessing back down the aisle.
Most wedding parties find the biggest challenge is matching the walk to the timing of the music. Large parties may need to process closer while smaller parties may need to allow more lag time. So spend the time you need on this step.
At Oasis Golf Club & Conference Center, our experienced wedding experts can help you coordinate any size wedding party for the perfect day. Check out our beautiful new ceremony venues and rehearsal packages today.
Wednesday, June 20, 2018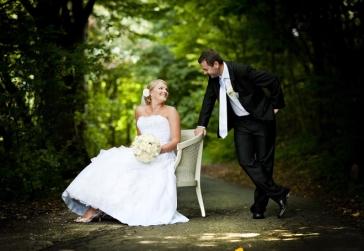 How do you choose a venue for your wedding day? With so much pressure on this day to express your love and satisfy all your dreams, settling on a single venue can seem like an impossible choice.
But, in actuality, a golf course can solve many of your problems and create unexpected fringe benefits. Here are five reasons that using a golf course venue is a brilliant solution.
1. Photo Opportunities
Those gorgeous green courses filled with lakes, trees, bushes, flowers, and hills offer a nearly endless choice of wedding photography backgrounds. You could walk around and change up your choices to give greater variety to your photos or find one perfect space and use it as a base location.
While most courses have already chosen great wedding venue locations, your options are often only limited by your imagination and the business of the course on a particular day.
2. Location Options
Golf courses generally have several options for different wedding sizes and themes. Most courses offer the use of a clubhouse or ballroom that generally looks over the course and provides great views. These event rooms often need very little in the way of decoration because of the course's natural beauty.
You could also opt for an outdoor wedding by the bridges, green lawns, and water features common in golf clubs. Talk with your course's manager to determine how many different locations are offered and how you could mix them up on your big day. Many bridal couples choose an outdoor ceremony and the convenience of an indoor reception.
3. Full-Service Weddings
A large and well-run golf course usually provides most of the wedding day needs, including catering, bakers, decorations, setup, and floral arrangements. Being able to handle so many functions with one single vendor can save money as well as time and stress on your part.
Ask about bridal packages that offer discounts on things like receiving rooms, golf cart rentals, cocktail hour spaces, bar alcohol, and time for photo sessions before and after the ceremony. They will also likely have chairs, tables, and standard linens on-site that you can choose from to further simplify renting (and returning) various elements.
4. Reliable Experience
An established golf club has seen it all and worked with dozens or even hundreds of wedding parties. They have a wealth of information on how to make an event run smoothly. Use their expertise to choose reception and ceremony seating layouts, create signage, serve meals, and plan cocktail hour activities.
Even if your golf course venue doesn't come with a coordinator, you can generally still talk often with their manager or host to work out the best arrangement for your particular interests. Be sure to discuss your concerns in advance so that they can meet your needs and personalize your big day. Choose a golf course that's large enough to provide what you need but small enough that they make you feel special.
5. Single Location
Finally, your guests will thank you for having your wedding events all in one location. This is doubly important if you have out-of-town guests or those who don't drive or travel comfortably. You can direct everyone to one venue and they can make themselves more comfortable. You'll avoid confusion and make sure that everyone, even elderly guests, can attend the festivities.
In addition, if you host a pre-wedding rehearsal, party, or shower at the golf club, everyone can get familiar with the space well before the big day.
Ready to check out a golf course in your area for your wedding day ceremony or reception? For events in the Cincinnati area, start with a visit to Oasis Golf Club & Conference Center today. We can help you design a perfect day no matter your wedding's style and size.
Wednesday, May 16, 2018
Gone are the days when a bar or bat mitzvah was held in the temple's social hall or a community rec room. Today's young adults want sophistication, style, and (of course) a splash of fun. That means you need to pick the perfect venue and create a theme that truly stands out.
Just like your daughter wouldn't want the same bat mitzvah dress that everyone in her Hebrew school class had, she doesn't want the same party. The same goes for your bar mitzvah boy. Whether you choose a classic country club outdoor venue, an intimate indoor dinner, or a grand gala type of affair, your child's bar or bat mitzvah is an event that requires plenty of planning and creativity.
Before you start booking caterers and hiring entertainment, take a step back and create an overall framework for the party. Take a look at some of the most popular event themes that are age-appropriate, fun-filled, and majorly memorable.
Globe Trotter
Does your child love to take family trips? Or maybe they're a global dreamer, constantly imagining what it would be like to spend a weekend in Paris, hop a plane to London, and then jet off to Sydney. Whether your child is well-traveled or just wants to be, this theme is perfect for a newly-turned teen.
The beauty of a globe-trotter party is that it provides you with endless choices. Instead of picking one menu item or one style of food for a buffet, you can create stations that feature treats from different areas of the world. Think French pastries, Italian pizza, Chinese noodles, and Japanese sushi.
You can host this kind of bar or bat mitzvah party indoors or outdoors. Simply decorate the area with flags from different nations. Include objects or imagery (such as a mini Eiffel Tower or a large-scale photo of a favorite city) and you're ready to go.
Make the afternoon or evening extra exciting by handing out mock passports for the kids (you can even rent a photo booth and get their pictures put on the passports) and goodie bags that feature treats from around the globe.
Beach Boardwalk
The smell of freshly spun cotton candy, the boardwalk games, and seaside fun are all part of this completely kid-friendly theme.
Create your own arcade or game area with rented video games or Skee Ball. Set up stands with beachy treats for the kids to snack on before the main meal. And to make the party complete, fill the space with ocean-themed décor.
You can even design your own mini boardwalk for your child to make their grand entrance on.
Radical '80s
Not that you want to relive your awkward teenage years, but your child might get a kick out of this throwback. The 1980s are as retro to today's tweens as the '50s were to many modern parents (in their own youth). Play up a time when big hair ruled and everything was totally tubular.
Hire a DJ who specializes in '80s music, invite the guests to dress the part (don't worry, their parents will remember what it was like to dress for a bar or bat mitzvah circa 1988), and have a break dancing or moonwalk contest (again, the parents may need to help with these).
Classically Cool
Not every 13-year-old wants strobe lights, a smoke machine, and over-the-top decorations. Some bar and bat mitzvah children prefer a quieter type of party setting. And that's okay. Instead of making the event into a circus, take things down a notch (or a few).
Plan an afternoon brunch or lunch event that features simple, serene décor such as pastel or white floral arrangements and neutral linens. Instead of a loud DJ or full band, opt for a classical ensemble or a harpist.
Are you looking for the perfect bar or bat mitzvah venue? Contact Oasis Golf Club & Conference Center for more information.
Wednesday, April 25, 2018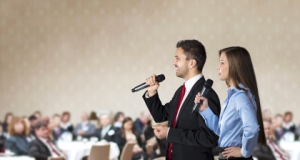 Corporate events take form in many shapes and sizes, but they often tend to be structured in the same way. The wrong format, though, can actually take away from your objectives and success. To help you decide how to structure your next event, here are five basic event formats and what they're each best at.
Conference
The majority of company-wide gatherings, information sessions, annual meetings, and recognition ceremonies are in the form of a conference. They usually have a keynote speaker of some importance (either inside or outside the company) and seek to impart somewhat generalized information. They can be as simple as a brief about company activities or as exciting as announcements of new products.
Conferences are best for giving out information to the group as a whole, especially when you want everyone to receive the same information from a reliable source. Conferences have limited interaction between speakers and the audience, so you probably don't want to use this format for teaching complex or hands-on education.
Seminar
A seminar often has a more limited agenda and limited guest list than a full conference. A seminar is targeted at a specific educational goal you want to impart, with the majority of the time spent speaking before the full audience. One primary difference between seminars and conferences, though, is that seminars tend to have more interaction in the form of question and answer periods.
A seminar allows people to ask questions that they wouldn't in a large conference. The seminar format is also great for different tracks of meetings on different subjects, so a seminar offers freedom of choice and allows you offer more variety within the same amount of time. A symposium is an even more casual seminar with more refreshments and entertainment.
Workshop
A workshop event is often more popular than its more formal cousins, the conference and seminar, because people get to interact in small groups. It often includes breakout sessions where people can bounce ideas off others, brainstorm, and get their hands on products without concern.
Workshops are usually a lot of fun for employees. Mix and match employee groups to help everyone get to know each other. You can use workshops to solicit new ideas from workers, improve on designs, and find out what people are thinking. They also offer a more casual atmosphere and encourage games and conversation.
User Training
When you need to teach people a new skill, software, or company product, you conduct a user training conference. This conference is largely based on speaking to a large audience, but you can also include smaller breakout sessions with a more hands-on approach. You'll likely need more props and probably some additional technology to showcase the product and show how to use it in real life.
Make sure there are lots of pros on hand at the user training to help people keep up with the speaker and other students. Make it interactive and provide as many hands-on opportunities as possible. Create some reallife scenarios and consider offering additional education in different aspects for advanced learners.
Trade Show
A trade show format generally includes a large number of outside vendors and clients. This event's goal is to get people to try new things, buy and sell items, and network outside your own company. Trade shows usually need more space than many other types of events and include the most foot traffic, with an emphasis on people coming and going at their leisure.
Once you understand the goals and needs of your particular corporate event, you can start planning the right venue and the right agenda to fit it. At Oasis Golf Club & Conference Center, we're here to help you create the best event whether it's large or small. Call us today.
Tuesday, April 17, 2018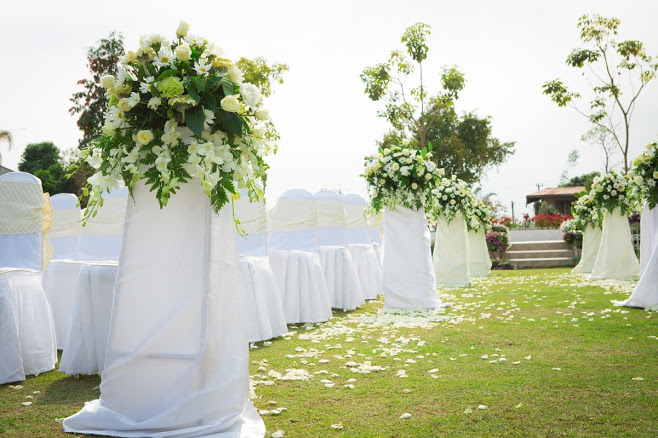 Getting married? Your wedding reception is as important as the ceremony itself, bringing together your loved ones and celebrating the nuptials. Make sure that your reception goes off without a hitch and that you and your guests enjoy every moment!
Do Choose Venues Carefully
Plan to spend some time and energy checking out and choosing your venue; after all, the site can set the tone for the entire day! Consider booking space at a nearby golf resort for the beauty of manicured landscaping and outdoor space, with the convenience of indoor conference rooms and accommodations. Talk with event staff to find out what the venue has to offer you and your guests on your very-special day.
Don't Wait to Assess the Space
This also brings up the point that you should never book a space online without visiting first; even destination wedding reception venues should be carefully toured, assessed, and researched before making reservations. Frequently, couples have no idea of simple elements such as the parking situation, food quality, or even the number of restrooms until it is too late to opt out.
Do Go All-Out With the Food
The quality of the food is something that guests remember after your wedding; make sure that it is a pleasant memory for them. Talk to event space staff about catering availability, but also ask about tastings before the big day. Make sure that your guests' dietary restrictions are accommodated by the chef; you may glean such information from RSVP cards or pre-wedding responses.
Don't Put the Focus on Drinking
Try not to put too much focus on drinking during your wedding event; offer a couple signature drinks and basics like beer or wine, but don't let it become a drunken brawl. The time for letting loose is at prewedding festivities, like rehearsal dinners and bachelor parties; you want to make sure that your guests feel comfortable and contented.
Do Hire a DJ
Even if you are hiring a band, it makes good sense to hire a wedding DJ. Your DJ can serve as a master of ceremonies during the event and keep things on schedule while keeping guests abreast of each activity during your reception. The bride and groom shouldn't have to play this role while they are trying to engage with guests and enjoy their special day.
Don't Let Guests Leave Empty Handed
Make sure to provide guests with a little something for making the effort to bear witness on your big day. Even if the budget is strained, DIY favors show guests that you were thinking of them and that you appreciate their attendance. These do not have to be pricey items but rather something heartfelt and commemorative.
Do Accept Offers of Help
When family and friends offer to help, let them! It often seems that the couple want to handle things themselves to ensure guests enjoy the event, but allow people to chip in and lend a helping hand. Whether they are helping guests park vehicles or cleaning up after the reception, accepting your friends' and family's offers of assistance can make them feel like a part of your special day.
Don't Let Guests Depart Without Saying Goodbye
If you are hosting guests from out of town, make sure to see off and say goodbye to these individuals before they leave. While their 6 a.m. flight might be difficult to make the next day, try to personally speak with each guest before they depart. It shows courtesy and appreciation.
Determine your wedding do's and don'ts by sitting down with your significant other to discuss your wedding vision. Make sure to be on the same page when it comes to budget before planning details to save time and grief later.
When you are looking at venues in the Loveland, Ohio, region, check out Oasis Golf Club & Conference Center for the perfect background for your nuptials. With indoor and outdoor facilities, this site melds the best of both worlds to create a day that you will remember for years to come. Use these tips to ensure that every detail of your wedding is as lovely as the venue!