welcome to our blog
Date : 6/20/2018
5 Reasons to Trust a Golf Club With Your Wedding Day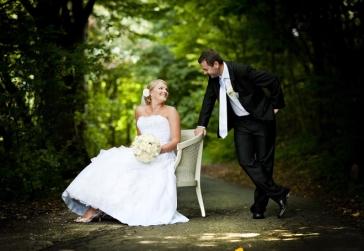 How do you choose a venue for your wedding day? With so much pressure on this day to express your love and satisfy all your dreams, settling on a single venue can seem like an impossible choice.
But, in actuality, a golf course can solve many of your problems and create unexpected fringe benefits. Here are five reasons that using a golf course venue is a brilliant solution.
1. Photo Opportunities
Those gorgeous green courses filled with lakes, trees, bushes, flowers, and hills offer a nearly endless choice of wedding photography backgrounds. You could walk around and change up your choices to give greater variety to your photos or find one perfect space and use it as a base location.
While most courses have already chosen great wedding venue locations, your options are often only limited by your imagination and the business of the course on a particular day.
2. Location Options
Golf courses generally have several options for different wedding sizes and themes. Most courses offer the use of a clubhouse or ballroom that generally looks over the course and provides great views. These event rooms often need very little in the way of decoration because of the course's natural beauty.
You could also opt for an outdoor wedding by the bridges, green lawns, and water features common in golf clubs. Talk with your course's manager to determine how many different locations are offered and how you could mix them up on your big day. Many bridal couples choose an outdoor ceremony and the convenience of an indoor reception.
3. Full-Service Weddings
A large and well-run golf course usually provides most of the wedding day needs, including catering, bakers, decorations, setup, and floral arrangements. Being able to handle so many functions with one single vendor can save money as well as time and stress on your part.
Ask about bridal packages that offer discounts on things like receiving rooms, golf cart rentals, cocktail hour spaces, bar alcohol, and time for photo sessions before and after the ceremony. They will also likely have chairs, tables, and standard linens on-site that you can choose from to further simplify renting (and returning) various elements.
4. Reliable Experience
An established golf club has seen it all and worked with dozens or even hundreds of wedding parties. They have a wealth of information on how to make an event run smoothly. Use their expertise to choose reception and ceremony seating layouts, create signage, serve meals, and plan cocktail hour activities.
Even if your golf course venue doesn't come with a coordinator, you can generally still talk often with their manager or host to work out the best arrangement for your particular interests. Be sure to discuss your concerns in advance so that they can meet your needs and personalize your big day. Choose a golf course that's large enough to provide what you need but small enough that they make you feel special.
5. Single Location
Finally, your guests will thank you for having your wedding events all in one location. This is doubly important if you have out-of-town guests or those who don't drive or travel comfortably. You can direct everyone to one venue and they can make themselves more comfortable. You'll avoid confusion and make sure that everyone, even elderly guests, can attend the festivities.
In addition, if you host a pre-wedding rehearsal, party, or shower at the golf club, everyone can get familiar with the space well before the big day.
Ready to check out a golf course in your area for your wedding day ceremony or reception? For events in the Cincinnati area, start with a visit to Oasis Golf Club & Conference Center today. We can help you design a perfect day no matter your wedding's style and size.
[ More Blog Posts ]