welcome to our blog
Date : 4/17/2018
Wedding Reception Do's & Don'ts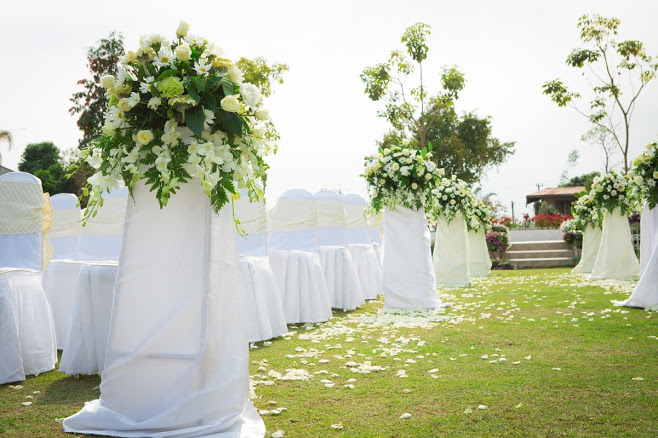 Getting married? Your wedding reception is as important as the ceremony itself, bringing together your loved ones and celebrating the nuptials. Make sure that your reception goes off without a hitch and that you and your guests enjoy every moment!
Do Choose Venues Carefully
Plan to spend some time and energy checking out and choosing your venue; after all, the site can set the tone for the entire day! Consider booking space at a nearby golf resort for the beauty of manicured landscaping and outdoor space, with the convenience of indoor conference rooms and accommodations. Talk with event staff to find out what the venue has to offer you and your guests on your very-special day.
Don't Wait to Assess the Space
This also brings up the point that you should never book a space online without visiting first; even destination wedding reception venues should be carefully toured, assessed, and researched before making reservations. Frequently, couples have no idea of simple elements such as the parking situation, food quality, or even the number of restrooms until it is too late to opt out.
Do Go All-Out With the Food
The quality of the food is something that guests remember after your wedding; make sure that it is a pleasant memory for them. Talk to event space staff about catering availability, but also ask about tastings before the big day. Make sure that your guests' dietary restrictions are accommodated by the chef; you may glean such information from RSVP cards or pre-wedding responses.
Don't Put the Focus on Drinking
Try not to put too much focus on drinking during your wedding event; offer a couple signature drinks and basics like beer or wine, but don't let it become a drunken brawl. The time for letting loose is at prewedding festivities, like rehearsal dinners and bachelor parties; you want to make sure that your guests feel comfortable and contented.
Do Hire a DJ
Even if you are hiring a band, it makes good sense to hire a wedding DJ. Your DJ can serve as a master of ceremonies during the event and keep things on schedule while keeping guests abreast of each activity during your reception. The bride and groom shouldn't have to play this role while they are trying to engage with guests and enjoy their special day.
Don't Let Guests Leave Empty Handed
Make sure to provide guests with a little something for making the effort to bear witness on your big day. Even if the budget is strained, DIY favors show guests that you were thinking of them and that you appreciate their attendance. These do not have to be pricey items but rather something heartfelt and commemorative.
Do Accept Offers of Help
When family and friends offer to help, let them! It often seems that the couple want to handle things themselves to ensure guests enjoy the event, but allow people to chip in and lend a helping hand. Whether they are helping guests park vehicles or cleaning up after the reception, accepting your friends' and family's offers of assistance can make them feel like a part of your special day.
Don't Let Guests Depart Without Saying Goodbye
If you are hosting guests from out of town, make sure to see off and say goodbye to these individuals before they leave. While their 6 a.m. flight might be difficult to make the next day, try to personally speak with each guest before they depart. It shows courtesy and appreciation.
Determine your wedding do's and don'ts by sitting down with your significant other to discuss your wedding vision. Make sure to be on the same page when it comes to budget before planning details to save time and grief later.
When you are looking at venues in the Loveland, Ohio, region, check out Oasis Golf Club & Conference Center for the perfect background for your nuptials. With indoor and outdoor facilities, this site melds the best of both worlds to create a day that you will remember for years to come. Use these tips to ensure that every detail of your wedding is as lovely as the venue!
[ More Blog Posts ]