Change of Plans?
Keep your face to the sunshine and you cannot see a shadow. - Helen Keller
Let's begin this blog by saying, we understand. We're all going a little stir crazy right now. The whole world is experiencing an unknown and scary time. We also understand that there are several brides just entering planning mode and some brides that were only a few short weeks (or months) out from your big day; both of which are being forced to adjust and, most likely, change their plans.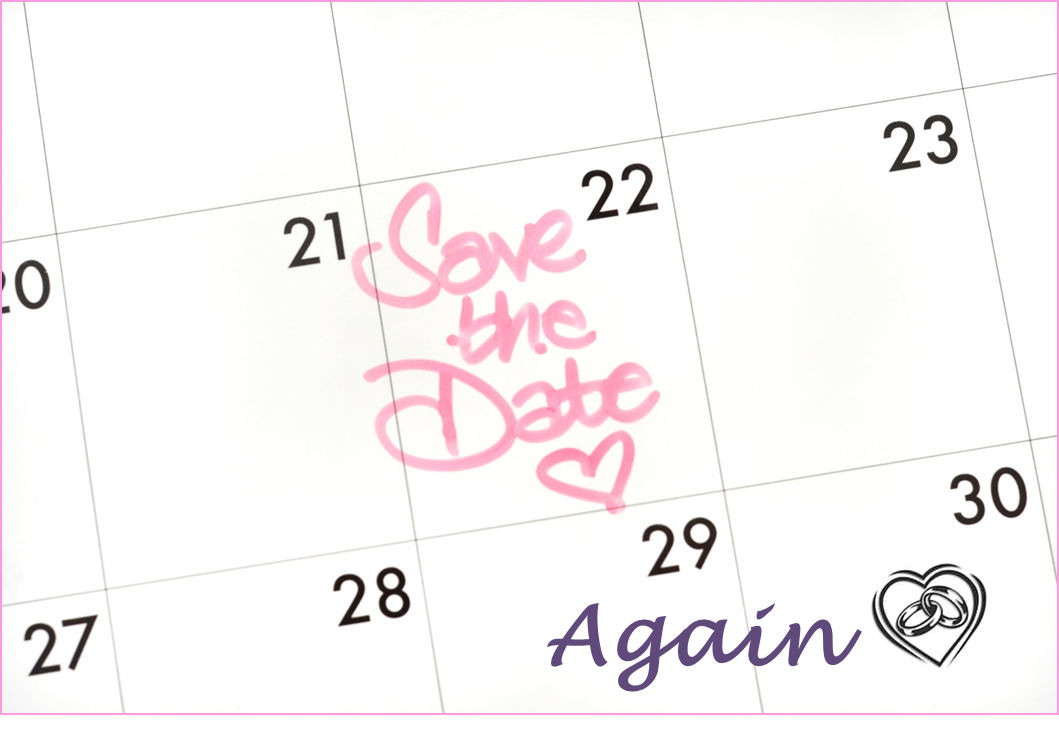 Maybe you could move your wedding to a small, intimate event??... Maybe just you, your spouse and your parents and/or siblings? Perhaps you move to a secluded beach somewhere? Maybe a family farm? How about a cabin hidden deep in the woods?
Wait… is that the cabin fever talking? (It's undetermined at this point. I have no idea what day of the week it is.) I mean it sounds like a romantic and cozy rendezvous, spent with those you love the most. Then you can always have a big reception in a few months to celebrate with everyone. I mean, what sounds better than being quarantined with your spouse, your parents, and your in-laws while you deliver your vows and start the rest of your life together? Ok, you're right. My cabin fever has gotten the best of me once again.
On second thought, maybe it would be best to push your big day back so you can thoroughly enjoy yourself with ALL of your friends and family when the time comes. And who knows, once we get through this craziness together, it may even make your day all the more special.
If you bravely decide to postpone your wedding, the team at Oasis will make this transition as smooth as possible for you. We are here for whatever you may need. It's important to let your guests know about a postponement as soon as you can. Many may still be trying to figure out how/if they can travel, where they can stay, and quite honestly, they are most likely drowning in the anxiety of making the trip anyway. They REALLY want to be there with you, but they may be scared. Make it easy for them ~ have a new date in mind. Let them know you want them there and you care about their safety. Your wedding is about family, friends, love.
Oasis is looking forward to being the ones to help shine a bright light on what could be seen as a dark time. Our Wedding staff will look at the calendar and find the perfect date for you. We will offer guidance, advice and a beautiful backdrop during the ever changing ways of the world right now. You may have to go a little out of your comfort zone when trying to push your wedding back a few months. You'll be forced to find perspective.
Maybe the DJ you had already booked is not available for your new date… But on the other hand, maybe that live band you REALLY wanted is able to make it for the new date! Perhaps the flowers you chose aren't in season on the new date… But, on the other hand, maybe the flowers your Mom had in her bouquet are! It's still your day (albeit a new one). Make new stories.
It will be important to get together with your significant other and essentially make a priority list. Now I'm sure that sounds silly right about now. If all of your details are already pinned down, then of course they're all priorities right? I totally agree, but changing your date may require some flexibility. Of course the venue is key. (And we happen to know of a FABULOUS and gorgeous event center ~ wink wink) Nail down that detail first and secure a new date with Oasis today. Once you have that taken care of, you can decide what is next. Whether it's the catering company, the florist, the DJ or the photo booth... It's up to you! Decide what means the most to you and your spouse and start there. Reach out to those vendors and let them know your new date, see if they are available and discuss the monetary side with them. Is your initial deposit going to carry over to the new date? Will you still owe the final payment on the original date or the new date? I'm sure there are so many brides feeling anxious, nervous, upset, and maybe even angry! This is such an unknown time for everyone, and you are justified in however you are feeling. But know this, you are not alone! We are literally all experiencing this together. And, we will all get through this together!
Weddings are about love, coming together as one. Simply put ~ UNITY. And, I think one key element I'm trying to take from all of this chaos is the vast amounts of kindness and unity that I have seen across the world. People singing to each other off of balconies, people going to the grocery store for their elderly or ill neighbors, people hiding stuffed animals in their windows for the neighborhood kids to go on an animal hunt. It is a time that is challenging the world, but I think we are all doing our best to adjust. And your wedding day will be no different!!
So to make a long story longer, I feel confident in saying that all of those involved in your wedding, from vendors and planners, to family and friends, will be standing strong by your side and will not let your big day disappoint! I know it's mentally and emotionally taxing to have to change such important details at the last minute, but try to find the silver lining in all of this. The sooner you make the decision to push your wedding back a few months, the sooner you can take a deep breath and relax. And as always, Oasis will be an extra resource for you to assure everything remains perfect.
You, your spouse, your friends and your families are what will make the day and the memories, not the date. Let Oasis stand by your side through this unusual and unique time. Stay safe and healthy and please reach out to Oasis if you have any questions or concerns.
Please contact us today and let us know what we can do to help you create your ideal wedding!
#OasisBridalBlog #WeDoItAllForYou #AbsolutelyOasis