Setting the Tone With Your Wedding Cake
"Let's face it; a nice creamy chocolate cake does a lot for a lot of people; It does for me."
- Audrey Hepburn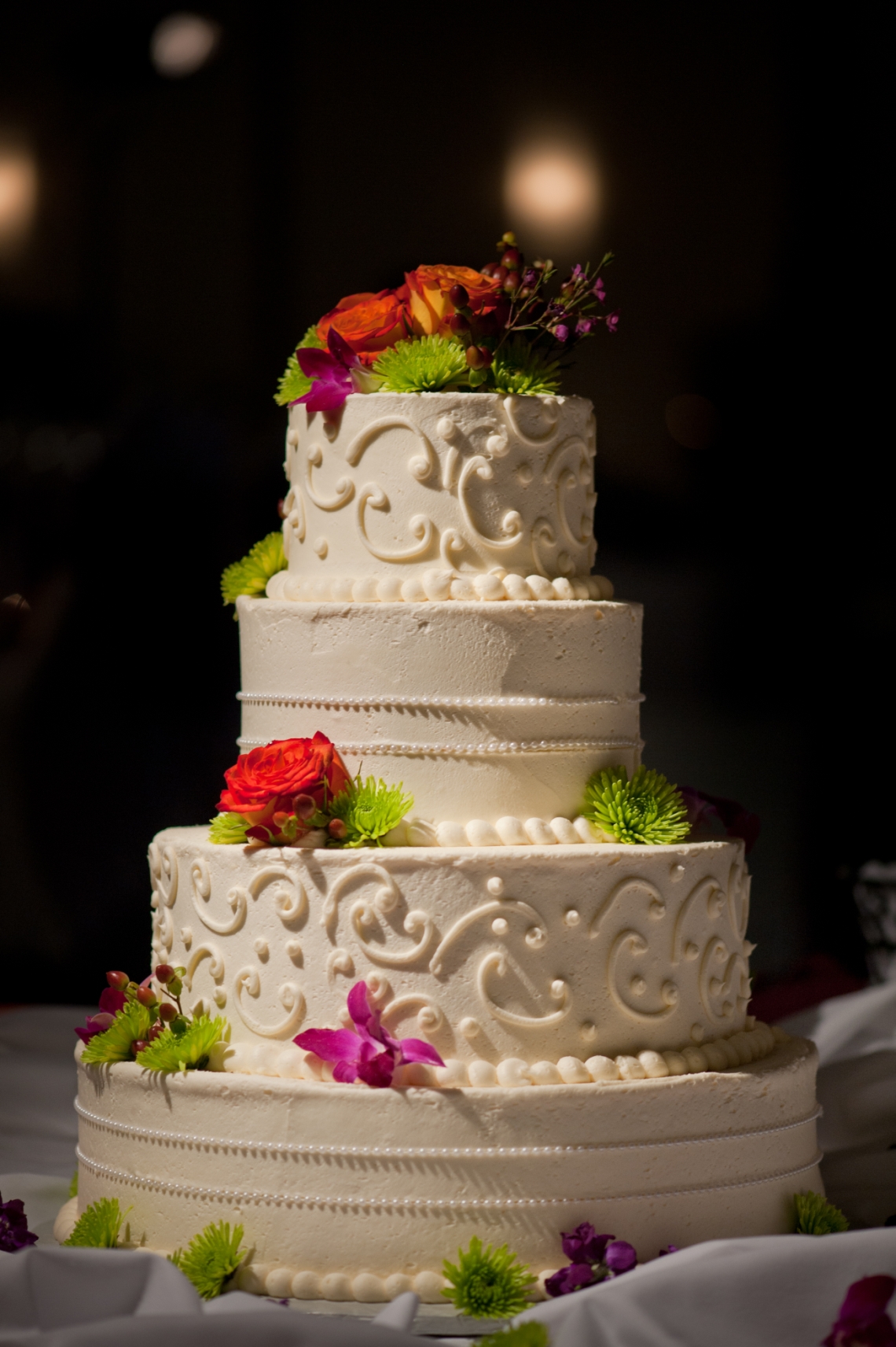 While it proves to be a difficult task to follow a blog about food, it makes it pretty darn easy when we're talking about cakes!! Whether you're 9 or 99, everyone loves a good slice of cake *insert mouth-watering emoji here*. Some people know exactly what they're looking for in a cake and others become quickly overwhelmed when they realize the amount of possibilities available when creating your dream cake. Oasis Conference Center has partnered up with a local boutique cakery, DessertWorks, to ensure that your cake will absolutely live up to your visions and be yet another part of your big day that has all your guests talking.
DessertWorks Cakery opened in 2000, with the owner having 29+ years of experience under her belt (err, apron). They have received the prestigious "Knot best of weddings" award every year since 2011 and earned the "knot hall of fame" badge just last year for being voted in the top 8 years in a row. Whether you have 264 cakes pinned to your Wedding Board on Pinterest, or all you know is you love cake more than the air you breathe, the team of top notch bakers at DessertWorks will work with you to create a masterpiece that will reflect the love and joy of your special day and leave you speechless. (Because you'll be eating delicious cake, obviously) All cakes and icings are made from scratch to ensure the freshest product possible. Because of this, your wedding would be one of only four maximum weddings booked each weekend. This allows extra time for special attention and personal detail for each cake.
DessertWorks cake pricing includes your choice of cake flavors, cake fillings, buttercream icing, a custom design and set up the day of. When I say your options are endless, you really can choose from so many different flavor combinations that will allow for extra personalization. How about confetti chiffon cake with raspberry filling? Oreo chiffon cake with Cookies&Cream buttercream filling? Or perhaps a red velvet cake with their very own DessertWorks' bakers buttercream filling? Or my personal favorite combo I've created, caramel swirl cake with Kahlua buttercream filling?!?!!! I mean…. Come on. (Seriously, let's go now. I'll book a wedding cake tasting!)
Groom wants cupcakes, but the bride wants a traditional cake? How about both?! Maybe you guys met tailgating for a Bengals game, and the only good thing that came out of that day (because I'm assuming the Bengals lost), is the fact that you found your forever person? DessertWorks has made a Bengals wedding cake before!
They will incorporate flowers provided by your florist at no additional cost. Or one of my favorite ideas, a small cake at each table displayed in the center for that particular table to share. Whatever your vision, DessertWorks will turn it into your reality.
The top layer (anniversary) of each cake is excluded from the overall slice count and is a DessertWorks gift to you. One of my favorite perks is the Bridal Anniversary Bonus. If you take them a picture of you cutting the cake at the reception, you can purchase a fresh top layer to enjoy on your anniversary for only $10!! They also offer discounts to any active duty military personnel, full time police or firefighter/paramedic/EMT.
And since you've chosen to let Oasis Conference Center do it all…for you, our professionally trained staff will be there to cut and serve your cake. And for no additional charge whatsoever, we are also available to do any cake taste testing for you prior to serving to your guests. Ya know, just to make sure. (Hard to believe this feature is free, I know.)
If you haven't toured Oasis yet and want more information, please contact us today! It is our dream to help you achieve your dream.
#OasisBridalBlog #WeDoItAllForYou #AbsolutelyOasis