Skip the rubber chicken and cheesy ice breakers!
I've been to several corporate events throughout my career. Some good, some bad, but some definitely stand out in my memory more than others. Whether it's an outstanding meal, amazing music and company, or just an overall really cool theme, so many different factors can leave a lasting impression on your guests. The goal of this blog is to help you create an event that your guests will always remember, and for all the best reasons of course!
It all starts with the perfect theme.
Something your guests will be genuinely excited about participating in and will look forward to attending! Why not throw a fun summertime party?! With the patio event space at Oasis, you could really plan the perfect event. This could be a laid back event where people will feel more comfortable and will be more likely to strike up conversations and network themselves. It will be a good chance for people to get to know each other better and form connections they may not have otherwise made! And what better way to throw the perfect summer bash than with a taco and fajita bar??!! Paired with an open bar (non-alcoholic option available), I can guarantee that your guests will have a good time. Keep me in mind if you need a plus one! You provide the decorations and we will take care of the set up and tear down. I found the cutest idea for ice cream cone bouquet holders and I am dying to plan a summer event, just in case you need help with the decor!!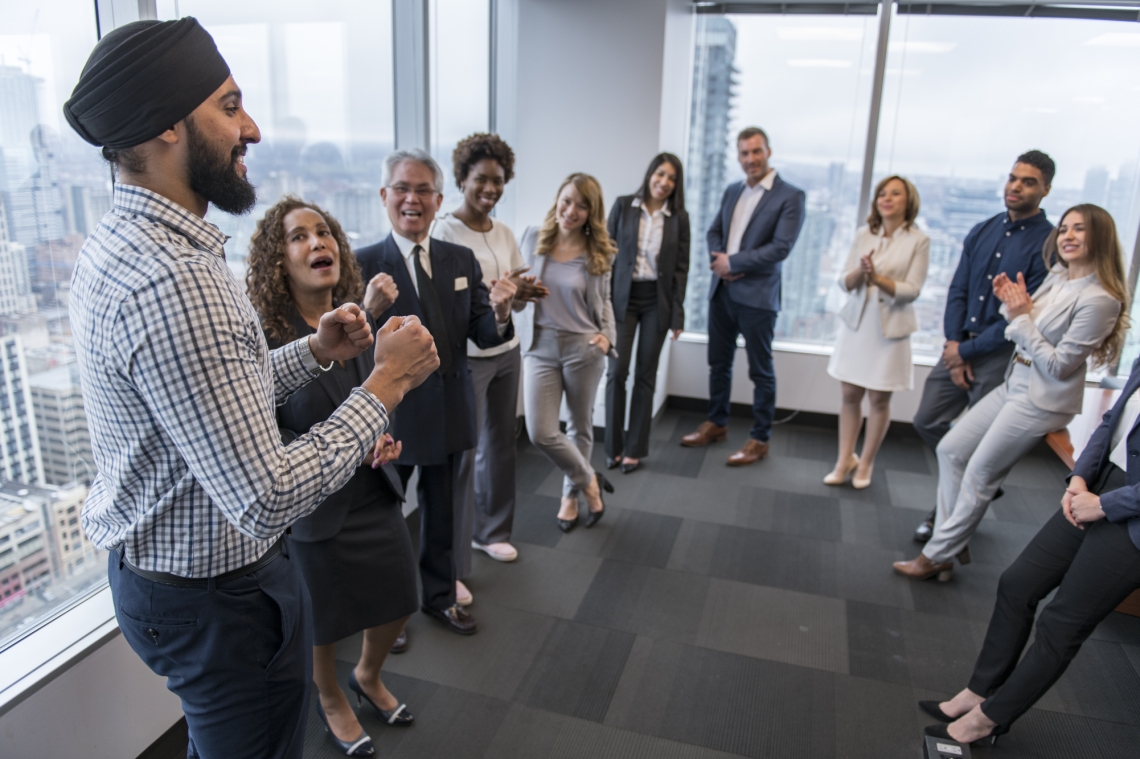 Come up with some fun icebreaker activities!
The key is to make sure that they will actually serve their purpose and "break the ice" instead of making your guests cringe at the awkwardness surrounding them. Going around the room and telling everyone who you are and what department you're from is sure to induce panic in half the room. It gives me anxiety just to think about it. I get the idea of getting to know everyone, but there are better ways to go about it.
My favorite idea I found was a game called "18 & Under". Still a way to go around the room and get to know everyone, but kind of promotes interaction and still gives everyone a chance to learn something new about each other. Go around and have everyone name one thing they accomplished before they turned 18. Some may be as simple as realizing the game is called "tag" because it stands for "touch and go". One guy (or girl… but most likely guy) will say they figured out you can't microwave aluminum foil. I'm sure someone in the group will tell you they got a perfect SAT score at the young age of 13. We all have different aspirations in life. This is the time to embrace everyone's differences and achievements all at the same time, while creating conversation starters for the party ahead! "So did you catch your microwave on fire from a Wendy's sandwich wrapper too??!! Oh... no? Me either. Just saw it on the news once."
How about the food?!
We couldn't get through a whole blog without talking about the food!! Oasis has a variety of menu options available so that you can customize the menu to suit your event's needs. We have plated and buffet breakfast options available as well as several different a la carte options. Fruit kabobs, breakfast burritos, quiches. Let's not forget about the donuts!! All I'm thinking about is what big events I have coming up in the near future that I could host as a breakfast event!! Lunches are big events for showers, fundraisers, even corporate gatherings. We have boxed lunch options as well as plated lunches also. But my favorite (of course) are the buffet options!! Pizza buffet, pasta buffet, and as we mentioned earlier... A taco and fajita bar! I always feel like I should just start and end these blogs with the food section because what else do you really need to know?! And of course we have plated and buffet options available for dinner which can also include a carving station. If providing a meal at your event isn't in your budget, we also have hors d'oeuvres packages and beverage packages to provide a light snack for your guests. By "light" snack, I mean petite beef wellington and fried cheese ravioli. Omg, yummmm.
Anyways, the point is, we are ready to help you create a custom menu that will meet all of your monetary and dietary needs.
Oasis Golf Club & Conference Center really is the best venue for all of your corporate, business and social needs. From a small group to an entire company, we can help you create the absolutely perfect event. You don't want to rent out a huge space somewhere for just a small group. And on the contrary, you don't want to pack a smaller space full of people who may or may not be comfortable around each other.. .yet! But I'm telling you, the 18 & Under game will do the trick!
At Oasis, we will keep your end goal in mind. The size, the budget, the menu, the decorations, all of it. And the best part is absolutely, we do it all for you! Bring us a plan and we will execute it. Don't have a plan just yet? No problem. We have a staff FULL of experienced, professional, and creative minds just waiting to help you out!
Allow us to show off our skills so you can show off your business, your fundraiser, or your new grandchildren at your family reunion. Please contact us today and let us know what we can do to help you with your ideal event!!
#OasisBlog #WeDoItAllForYou #AbsolutelyOasis