The Latest Wedding Trends
Patience and perseverance have a magical effect before which difficulties disappear and obstacles vanish.
-John Quincy Adams
So as we all know and as was discussed in the last blog, some of you may have some extra time on your hands that we can put to good use! I know it may seem like a disappointment right now, but we are here to make sure we help you find the good in this situation!! You can continue to save money (since we can't go out and do anything!) which you could end up using for some of the wedding extras that you couldn't previously afford! Use this opportunity as a chance to relax, save and create a day that will absolutely be well worth the wait. I was engaged for 17 months before we had our wedding and it felt like foreverrrr. So I totally get it for those of you who are pretty darn bummed out right now by the fact you have to push your wedding out even further. But good things come to those who wait (and quarantine) and we are going to make sure your wedding day is absolutely the most perfect, wonderful, fabulous day that you have been waiting for. For this blog, we decided to detail some of the most popular 2020 wedding trends that will help you nail a killer event for all of your friends and family, and most importantly, YOU!!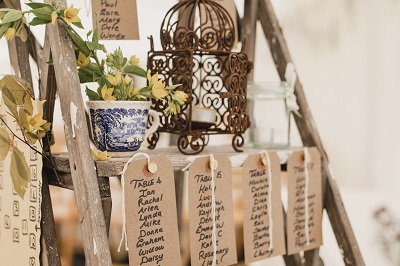 One of the biggest wedding trends I have read about, and one that is seemingly important in today's world, is a "green" wedding. There are so many eco-friendly options for brides and grooms and everyone is starting to take notice! From recyclable invitations to reusable dinnerware, the options really are endless. Floral arrangements and decor are a huge part of weddings ~ the bridal party, the table decorations, venue decorations and more. The list of uses for flowers goes on and on. However, choosing wisely can go a long way! By using potted plants instead, the table decorations can become your home decorations! One intriguing article I found referenced "renting" flowers where you keep all roots attached to your flowers and return them to the nursery afterwards. Even if you are certain that you want traditional arrangements, and I can't blame you because they are GORGEOUS, try donating them to hospitals, nursing homes or hospice facilities after the event. These same flowers that helped brighten your special day can help bring a little light to someone else's life too. I don't know about you, but I totally wish I had thought to donate my flowers after my wedding! Check with your catering company to see if using locally grown food is an option. Reset a family stone or heirloom to wear as jewelry as opposed to going out and buying something new. I absolutely agree that some of these things people don't like to budge on, they're wedding traditions and every bride deserves the most magical day she has always dreamed of. But even changing just one of these things can help make a meaningful impact in the long run.
Now I know if you have read this blog in the past, (and if this is your first read you will also learn very quickly) that one thing I ALWAYS talk about is food. And love, of course. And I love food soooo… goes hand in hand. So one big upcoming trend I have only recently learned about, is ditching a huge table of assorted desserts after cutting the cake. Now before you stop reading, I am VERY well aware of how crazy I sound to even suggest that eliminating sweets in any way, shape, or form is a good idea. But hear me out real quick and listen to the other option. A gigantic, magnificent, luxurious charcuterie board!!!! Clean the drool up off your keyboards girlfriend, because this is a REAL thing. How awesome does that sound? Wheels of cheese, stacks of crackers, all of the fresh fruits, nuts and a variety of meats... I mean, you can have the cupcakes. And if you can't find me all night, I'm by the cheese table with my gin & tonic. And this would also make a great idea for the end of night nibbles everyone gets after rocking their socks off on the dance floor. It's like a win-win-win. (deserves more than two wins!) And along the same lines as delicious food, are delicious beverages. You could each create your own signature beverage like sangria or a colorful cocktail! The creative culinary team at Oasis will work with you to find the perfect recipe for the perfect couple!
Of course looking your best is a top priority! So here are a few fashion forward trends sure to wow all of your guests! As usual, there are "hot hues" of the year and let me just tell you... They are GORG. I am so obsessed with a few of them; I might be repainting my whole house during this quarantine!! The most popular five are neo mint, cassis, mellow yellow, cantaloupe and purist blue. Seriously, do yourself a favor and check these out if you are not sold on a color yet. And speaking of color, a lot of wedding planners say they are seeing black suits for the guys become a thing of the past. The groomsmen are starting to focus on navy, teal and cobalt hued jackets. And for the bride and her pals, wedding planners say they are starting to see more barrettes and combs worn by more brides. Now this is not to say that veils are a thing of the past, because longer, more intricate veils are also another top trend this year!! But several brides have been using these beautiful, jewel encrusted barrettes and combs as a different style for the reception. Now I am sure that a few of you have a grandmother, aunt, mother, someone with a gorgeous hairpin that was Great Grandma Ethel's from 1918. Sounds like the perfect "something borrowed" to me!!
The last thing we'll discuss is arguably one of the most enjoyable parts - the honeymoon!!! This is such a special time for you and your new spouse to relax after the months or years of stress that can sometimes come along with wedding planning. Enjoy some time with just the two of you before getting back to the reality of work!! Now I've read this is a "new" trend, but I think this is something that definitely every couple should do - an "unplugged" honeymoon. Of course take some pictures to forever capture the memories you are making together, but don't stop and post everything you're doing or check in everywhere you go. Turn your phones, tablets and computers off and enjoy each other wherever you are. This can apply even if you're having a staycation at home as your honeymoon. Or a short weekend in an Airbnb. Being present will be the best present you can give each other. Another upcoming trend that can benefit your honeymoon as well, is nontraditional wedding registries. In today's world, it's not uncommon for couples to live together for months or years before they get married, so they don't need the traditional wedding gifts of plates and rugs and towels and sheets. For the most part, they have everything they need. Instead, ask guests to contribute to a honeymoon fund that you can set up through your wedding website. Or you could ask for gift cards. These don't necessarily have to be for restaurants, they could be to a place like Home Depot or Lowe's, as a lot of newly married couples have homes they're renovating. They can even be gift certificates for experiences like rock climbing, or a night in a fancy hotel, or a dinner theatre. Whatever your style, all are good options!
Oasis realizes the struggles so many current brides are experiencing right now. Please contact us today and let us ease some of your stress. We would absolutely love to help out however we can!!
#SayIDoAtOasis #OasisWeddings #AbsolutelyOasis #WeDoItAll