When Should the Wedding Bells Ring?
Hello, Happy Couples! And so we meet again! It's been awhile, but we know the wedding planning never stops. So we have decided to discuss some pertinent info regarding a HUGE part of your day. A lot of brides have their whole wedding planned out in their mind. Or at least on Pinterest. The perfect dress, the cake, the flowers, the first dances. All of it. One thing we haven't really adDRESSed yet (see what I did there) is WHEN to have your wedding. Of course there's anniversaries and special dates you may have in mind, but when exactly is the perfect time to host the most spectacular, extravagant, wonderful day of your life?! With the holidays quickly approaching (God help my bank account), we know there will be LOTS of engagements coming up and LOTS of you will be wondering when, where, what, why? Well, hopefully you know why. But that's another blog for another day. We're here to help you figure out the absolute best time for a wedding.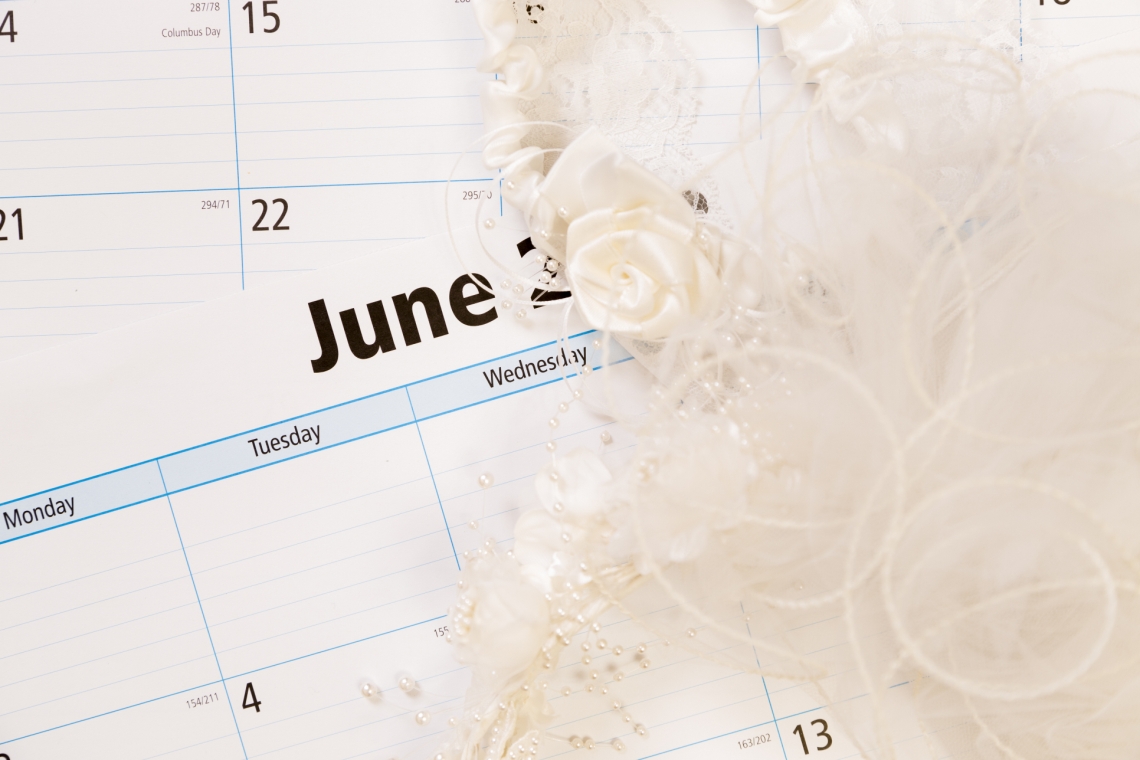 The Farmer's Almanac. Yes, you read that correctly. Lots of people depend on it for lots of things. So when it tells us the best time for weddings, we listen!! According to The Farmer's Almanac it is actually considered an auspicious tradition to hold your wedding in…. Drum roll please!! JUNE!! Of course there's the plus side that you can usually expect some amazing weather. Not too hot, not too cold. And around here, June can be the first time we actually see some nice summer weather. Now I did not know this prior to doing some research for this blog, but the month of June was actually named after the goddess Juno. She was the protector of women in all aspects of life, but especially in marriage and childbearing. So it completely makes sense why the tradition of a June marriage dates back further than your grandma's fine china collection. The idea of June weddings apparently comes from the Celtic calendar as well. They say young couples would pair up on May 1st for a 3-month courtship and be wed on August 1st. However, the young couples were always impatient (go figure!), so the courtship was shortened to mid-June, thus boosting the popularity of June weddings!
Now, in case you're not someone who's into The Farmer's Almanac and the Celtic calendar, there's nothing better than some real life testimonials to prove to you just how special a June wedding can be, especially when it's held at Oasis!!
"We chose Oasis for our daughter's wedding on June 30, 2018. We made the right choice! Attentive staff, delicious food, attention to detail, easy to work with--all of the above helped contribute to a magical night to remember. Cathy Humphries and the Oasis team went above and beyond to help us make the dream a reality. Our guests couldn't say enough about the beautiful wedding ceremony, from the decor to the food to the DJ. I have nothing but praise for this venue. Outstanding." - Lisa
"I am SO happy we chose Oasis for our reception. Cathy made the entire process so easy for us! Cathy was always open to answer all my questions months before the wedding to help answer and plan all details. She sets up a timeline for you to make sure your day goes smoothly. Also, our guests LOVED the food!! I didn't lift a finger for set up or tear down of the event, and as a bride that was a huge stress reliever. If you are debating on picking Oasis, PICK IT!" - Morgan
"Our daughter and son in law held their wedding reception here and it was a dream come true! A variety of options were offered, venders were provided...we varied some items and we were accommodated perfectly! The venue was prettier than you can even imagine! Food was delicious! Service was outstanding! Cathy handled every question, anticipated potential snags, relieved our concerns and made our event flawless. We are so happy with our choice to have our daughter and son in law's reception here...can't say enough about how wonderful the evening was!" - Laura
"Cathy Humphries and her team at Oasis Conference Center created a Wedding day for my daughter and son in law that we will never forget. The service was exceptional, the food phenomenal, centerpieces were beautiful. Thanks HJ Benken Florist! The best chocolate cake I have ever tasted. Thanks Sandra at Dessert Works Cakery! The Stunning Bridal Party bouquets were created by Alicia Aldridge Mueller. Thank You Alicia! Cathy Humphries took care of every detail to make it a stress free Wedding Reception that we all enjoyed. The Oasis Conference Center was the perfect venue for the perfect day!" - Kerry
If you are still undecided on whether or not Oasis is the perfect venue for your event, whether it be June, July, or any other month of the year, look no further! Call us today and let us guide you effortlessly through the process of wedding planning, from "Yes", to "I do", to "I wish we could all that again!". We would LOVE to hear from you and would LOVE to make your night one that you (or your guests) will never forget!
#OasisBridalBlog #WeDoItAllForYou #AbsolutelyOasis