Why Stress The Shower?
When planning your ideal wedding, you want every detail to be perfect. This can become stressful considering the countless details that go into all of the moving parts that eventually come together to form your wedding experience. The acute attention to detail in one place can also cause you to overlook the details in another place of your wedding planning process. One place detail commonly gets overlooked is when you are planning the bridal shower. This happens because the bridal party gets stressed about bigger parts in the wedding planning madness which leads to a bridal shower that is thrown together and usually very hectic. To avoid becoming a bridezilla, we are going to give you some tips and tricks that will give you a stress-free bridal shower that you will always remember.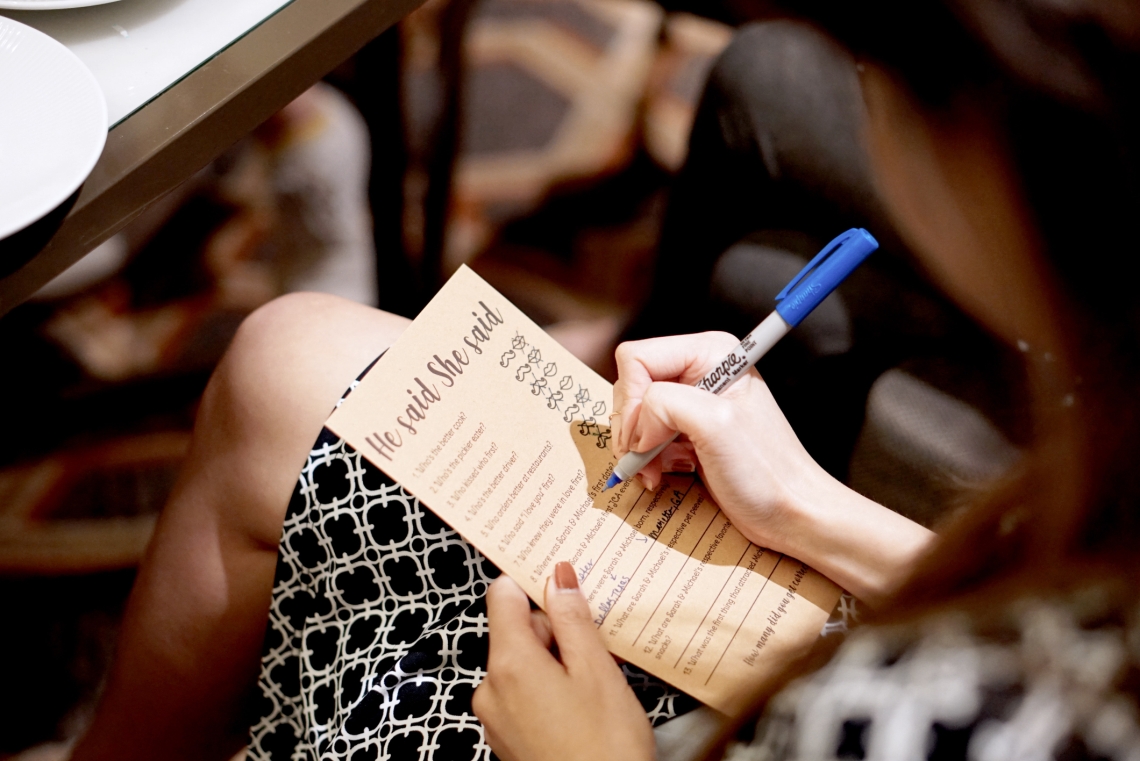 Tip 1: Get a bang for your buck.
When planning this bridal shower, there is no need to spend boatloads of money that could be better put to use for your actual wedding day! To avoid overspending we recommend DIY (doing it yourself) or looking at discount stores such as TJMaxx or Target for your decorations. To DIY decorations all you need to do is go to Pinterest and type in the exact look you are going for and hundreds of DIY ideas will appear at your fingertips that won't hurt your wallet. If you aren't crafty like me or are in a time pinch, Target and TJMaxx have a tremendous amount of decorations that can be used for any occasion and are usually under twenty dollars. Both of these money-conscious options will have your bridal shower guests jealous of your "upscale" decorations when you really spent next to nothing!
Tip 2: Keep it light!
During the day of your shower, you want to keep the environment fun and casual so you can freely move about to talk to all of your guests personally. This means when it comes to food, you should ditch a sit-down dinner that can end up being expensive and awkward if not all of the guests are close with one another. Instead, you should opt for bite-sized appetizers or crowd-pleasing snacks so that everyone stays satisfied while keeping the mood light.
Tip 3: Make it entertaining!
While it is fun to talk to your guests and catch up with them, you need to keep in mind that not everyone may know each other personally which can lead to your college best friend making awkward conversation with your future mother-in-law (yikes)! You may also run out of things to do if all you have planned is socializing because it is easy to run out of topics to talk about when at a party with lots of people. To avoid this and change the pace of the party, choose a few games that get everyone involved at the party. Once again, if you Google or look on Pinterest there are countless bridal shower games everyone is sure to love. One of my personal favorites is playing a trivia game of "who knows the bride best". This connection of everyone playing the games will also create lasting memories and may even connect people who came to the party as strangers.
Tip 4: Avoid the clean-up hassle.
When planning a wedding, your life is hectic enough as it is. The last thing you need is the pressure of having to host your own bridal shower at your house and impress everyone with just how perfectly clean and gorgeous your house is "all the time". When in reality you don't even have the energy to fold the blankets after using them for a long night of Netflix after work when you should be wedding planning. For this reason alone, it is better to leave it in someone else's hands. Avoid all the hassle by booking your bridal shower with Oasis Golf Club and Conference Center for a guaranteed stress-free environment that you can leave behind when the party is over and that is sure to stun your guests with its beauty.
#OasisBridalBlog #WeDoItAllForYou #AbsolutelyOasis